First and Foremost…. The Turkey!
We like to use our old clay smoker my grandfather bought in Japan. I have Many many many fond memories of Thanksgiving day, side by side with my grandfather checking and basting the turkey all day long.  The smell that fills the air as it slowly cooks for hours and hours…. ugh it's amazing! I can't wait!
So I have pulled this AMAzing recipe from Williams-Sonoma for a Cider-brined Turkey that also has a dry rub from scratch you put on before baking.  Perfect for slow cooking, but also just fine if you are going to cook in the oven instead of a smoker.  If you are deep frying it… God help ya, cuz Im staying ffaaaarrrr away from that one!
The only thing I would add IS for the dry rub… I would add some minced garlic or garlic powder and more rosemary.  I love me some Rosemary, and it grows in the garden, so why not!?
Secondly, We've got to make a good Appetizer High Priority!!
Okay, who doesn't love a good puff pastry? definitely NOT me!  SO let's hope to it; Have any of you ever made a baked brie appetizer? Ya take a whole round chunk of delicious brie and wrap it in puff pastry, bake it until its golden and wonerful looking (and smelling) Then take it out and serve it with crackers.  The flaky crust mixed with the ooey gooey deliciousness inside is just aaahhhhmaaaazziiinnngg!!  So here is a special puff pastry recipe a little twisted for Thanksgiving… in fact, I couldn't find a recipe for this very one so I adapted and Im giving you the closest thing I could find until I publish the recipe myself:
So here is what I do…I omit the salsa portion of this recipe because I am just NOT a fan of spicey, but feel free to try it. I also cooked and blended the beets and spread them in the pastry like a jelly/sauce and set the brie on top before wrapping the pastry over and baking.  I think you can't go wrong no matter how you try this recipe!  And one of the best parts is BEETS are in season and can be found at almost any local market, not to mention our garden right here at Ranaldi Family Farm!!
Just for kicks, here's another little idea for puff pastries and beets. This time make little circles using a cup or cookie cutter, thin apple slices, thin slice of beet and a cheese of your choice, a few herbs if you would like… layer them and then bake. 🙂 Thank Martha Stewart for this one !
Okay so Next on my list of cooking priorities … the stuffing!
This includes bread pudding and various wild rice casseroles because I just wanna lump them all together in one cattegory! They're all starches right?? Okay, so Typically I know most people have their favorite cornbread stuffing, or apple and sausage stuffing recipe… but we are going Farm to Table remember? I dont have any corn… and I didnt butcher any hogs lately… although I could find some good farm raised sausage if I really wanted, But I am looking to provide some unique recipes that can truly and easily be straight from the farm garden: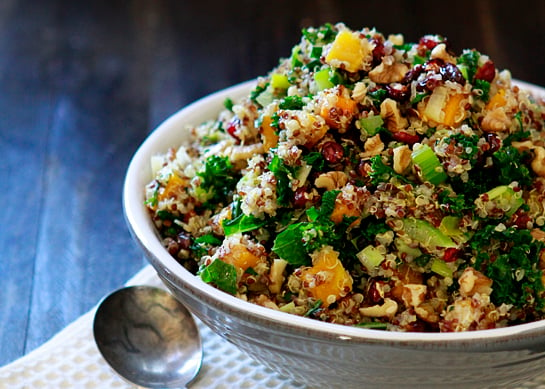 Now here's the thing… Quinoa is an interesting texture and not many people will accept it as a substitute for the delightfully fluffy chunks of bread stuffing… so if you must, go ahea and substitute the regular stuff for the quinoa but I am telling ya, try throwing in some Kale and butternut squash with the regular stuff and it will blow your mind! Delicious, rustic and right from the garden!!
I also want to point out this really cute idea of serving stuffing 'stuffed' inside squash. Any kind of squash really… but look at this:
Casseroles! YUM! Quick, simple and best of all easy! Here is a great Fall/Thanksgiving inspired casserole for you to enjoy. Mushrooms, Kale and a cheesy rice mixture make he perfect side dish to your holiday feast!

OH – MY- GOSH!! It's like a casserole of the most amazing rissoto you've ever had… okay maybe not, but it is GREAT.
Okay, so let's hop over to BREAD/Rolls…
You can't have Thanksgiving dinner without a good dinner roll and maybe you'll remember the delicious Sweet Potato Rolls I made just about a month or so ago?

But I found a great Parker House Roll by Williams-Sonoma that is so fluffy and delicious I just HAD to add it to the list:
OH and just because I love ya, Here's another one from Crescent rolls just for fun! I substituted Spinach for some chopped up swiss chard because well um, have ya seen the beautiful stuff We've got growing right now?!??  And home made herbed goat cheese for the feta, but you are welcome do switch up whatever you want, ya can't go wrong with these puppies!
The Vegetable.
Now I kid you not, I almost feel as though the vegetable side dishes are just as important, if not more than the main Turkey dish itself!  I have PLENTY for you to choose from, and ALL of them include farm-fresh, ready to harvest veggies found in local gardens and markets today!
This is the leafy-green version of creamed corn (which was one of my favorites as a kid)… I may not be able to get my kids to eat this dish, but maybe yours will.
Okay so forget that one if ya want, let's move on to something else… I've done honey and brown sugar glazed, ginger spiced carrots before but Im lookin for something a bit more creative than that.  How about…
Sprinkle some candie walnuts or pecans and dried cranberries in it and youve got a delicious sweet warm salad! Speaking of Salads I have a few "salads" that arent traditional leafy green salads but just as perfect for your table this Holiday season.
and
I adapted this recipe and substituted Quinoa for the Rye.
Okay let's get into the veggie roasting stuff, because there is nothing more delicious than a slow roasted root vegetable!
Can I sneak in some green beans?
Okay, I am a HUGE fan of pasta, so I have to throw this one in there… It is relatively easy for any of you young pasta makers out there…and tastes AMAZING! the pumpkin seeds on top finish it off wonderfully! Click HERE for the recipe.
Okay so where are we?? Oh yes…
DESSERT!!
I figure most of you have your own Pumpkin Pie recipe… heck Libby's Pumpkin cans from the grocery store have a recipe that works just fine… I am not allowed to share my family recipe that I have used for years, BBBUUuuttttt. I have found some unique, farm fresh and delicious desserts that will look beautiful on your Thanksgiving table and taste great with your Feast!
OKAY!!! HAPPY BAKING!!!!
Dont Forget WE have PLENTY of these Veggies Fresh for the Pickin' Here on the Farm!!